How to recycle our bubble mailers?
Our poly mailers and shipping pouches are recyclable under the How2Recycle program. It's not easy to find a vendor in the US that sells 100% recyclable plastics. Fortunately, we were able to! Go to your nearest plastic recycling drop-off location or dispose them into a plastic recycling bin. Let's create a plastic-free environment for all our marine animals!
Plastic Recycling Drop-Off
Many How2Recycle retail members have Store Drop-Off collection bins in their stores, including Target, Walmart, Lidl, and Wegmans. To find a drop-off location near you, use the zip code locator at https://how2recycle.info/sdo.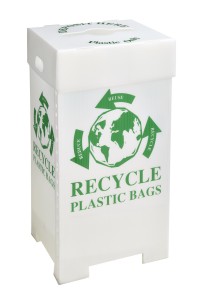 Wherever you see a plastic bag recycling bin, you can recycle our bubble mailers and shipping pouches in those bins! Please keep in mind all items being recycled must be clean and dry. The recycling logo labeled with the number #2 or #4 are also accepted. 
After the plastic has been collected from a store drop-off location, all plastic such as the bubble mailers will either be recycled into synthetic lumber or made into a new plastic bag. 
Thank you to our dear customers for cooperating with us to make a greener earth!